MPAAS : Cisco Meraki case study
April 4th 2021
MPAAS - Leading Utilities Technologies Supplier
MPAAS is a UK based, fully accredited Meter Operator and Meter Asset manager that supports energy suppliers and consumers. From installation and data flow management through to data analysis; MPAAS supports suppliers in presenting and managing industry data, offering SMETS2 design and consultancy, compliance and programme management.
Their vision is to digitise the archaic UK metering industry through technology solutions enabling a seamless and efficient customer journey, while ensuring suppliers meet their smart metering obligation and support UK's net zero transition.
MPAAS had an existing infrastructure that allowed them get their operations up and running within their new office location. The existing infrastructure lacked the ability to provide segmentation, scale, security, performance, and visibility for their growing needs. BestPath were selected based on our proven industry knowledge and expertise to work with the stakeholders and alleviate the business challenges they were experiencing.
There was an urgent need to ensure employees and appliances could connect to the network infrastructure securely, quickly and efficiently, whilst ensuring the segregation of resources and staff performing different functions were introduced. The key requirements were critical, the solution must provide their staff with the ability to consume the platform on any device, offer stakeholders visibility at all times, be high performing to cope with the vast amounts of data needed to meet their vision, and must scale as they continue to grow their client base globally.
We felt it was just as important to ensure that the solution was modern, modular and dynamic to align with the MPAAS vision; something that works seamlessly and efficiently whilst they continue their journey.
The engagement with MPAAS, allowed BestPath to showcase our technical expertise to review the existing IT infrastructure, and identify some additional key challenges that the organisation was faced with. MPAAS needed something that was going to allow their IT infrastructure to expand inline with their growing customer demands and trends. Flexibility, mobility, scale and costs were key for the technical success of this solution.
BestPath consultants were engaged to work with the key stake holders through customer workshops and propose a solution that enabled them to manage their infrastructure centrally and make use of modular products and services that come natively to the solution portfolio or through the use of future outside integrations. By choosing Cisco Meraki, we were able to deliver on the following key requirements and more:
Corporate wired and wireless network
BYOD wireless network
Guest wireless (sponsored portal)
IoT and CCTV connectivity
Web security restrictions and auditing
Enhanced network visibility
Migration of existing network services onto new network infrastructure
Flexible management of the network from any location
Once the Cisco Meraki solution was chosen, MPAAS were able to rely on the experienced staff within BestPath to perform a detailed design and procure the hardware and quantities needed to meet the current and future requirements of the network landscape as the organisation grows globally. By selecting a cloud managed platform, BestPath were able to pre-stage the hardware prior to the implementation, limiting the time needed to get the network up and running during lockdown restrictions.
Cisco Meraki gives MPAAS the ability to gain valuable insights, auditing, control, metrics and management of their infrastructure and users from anywhere in the world and on any device.
The project helped the client achieve the following outcomes:
Cost: Cisco Meraki provide a cost effect, enterprise grade, feature rich networking solution.
Performance: Prior to the network upgrade, MPAAS were experiencing intermittent network connectivity which was causing disruption to business operations. The delivered solution has remediated these issues and provided a stable network to ensure that staff can operate with confidence.
Security: MPAAS required network connectivity for a number of different use cases with varying security requirements. The delivered solution isolated the different clients to provide security controls between them.
Corporate image: For a growing business, corporate image is crucial. BestPath delivered corporate branded guest wifi. Once authorised, visitors are able join the MPAAS guest WiFi.
Network monitoring: The Cisco Meraki portal provides a single dashboard for monitoring both the wired and wireless networks. Additionally, all network configuration changes are tracked for auditing purposes.
Future capabilities: Growing companies need a feature rich, networking solution to account for future requirements. MPAAS now have a platform which can be built up to accommodate company growth without having to revisit the network infrastructure.
Since the deployment of the new network infrastructure, BestPath continue to be engaged with MPAAS to ensure that their network is ready at every step of their company growth.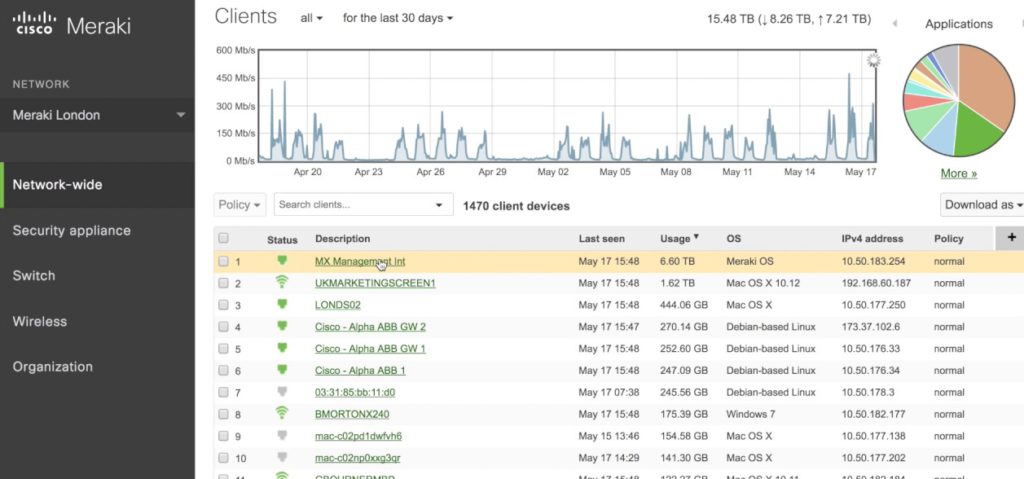 Get in contact with BestPath today to discover how BestPath and Cisco Meraki can add value to your business.
To learn more about the Cisco Meraki portfolio, please visit https://meraki.cisco.com
More