Cisco Nexus dashboard introduction
September 26th 2021
Nexus Dashboard Introduction
Since the introduction of Cisco ACI, BestPath has helped deploy many Cisco ACI fabrics comprised of many different components of the entire product suite, from standalone fabrics, multi-pod, multi-site, remote-leaf, and more. It's been satisfying to watch the ecosystem mature and evolve according to customer demands and industry trends. While there have been different application adoption strategies to compete with during all deployments, they have all had their standard monitoring needs.
Organizations need connectivity deployed faster, more securely, and across a more expansive infrastructure portfolio than ever before. The connectivity must be reliable and straightforward to maintain. Addressing each of these trends in isolation is a recipe for disaster.
For example, teams focusing on only the network automation element will deploy more configuration (tick in the box!). However, the security and day two operational aspects will have been left behind, leaving teams stretched and overwhelmed.
To address these concerns, Cisco has focused its time on a unified Cisco ACI "Day 2 Operations" package to help ease the adoption of their datacentre solutions.
Hello Cisco Nexus Dashboard
Nexus Dashboard (ND) is a Kubernetes-based platform architecture that hosts software to manage Cisco ACI and NX-OS-based (DCNM) fabrics and is available in either a physical, virtual, or cloud-hosted form.
Whether Cisco developed or third-party developed, different software applications can be consumed uniformly from a single-pane-of-glass, making provisioning and management more straightforward than ever. Many of the existing tools have recently been given a facelift and rebranded to bring them under the banner of Nexus Dashboard. Don't be surprised if you see some familiar names rebranded as part of the strategic move to ND.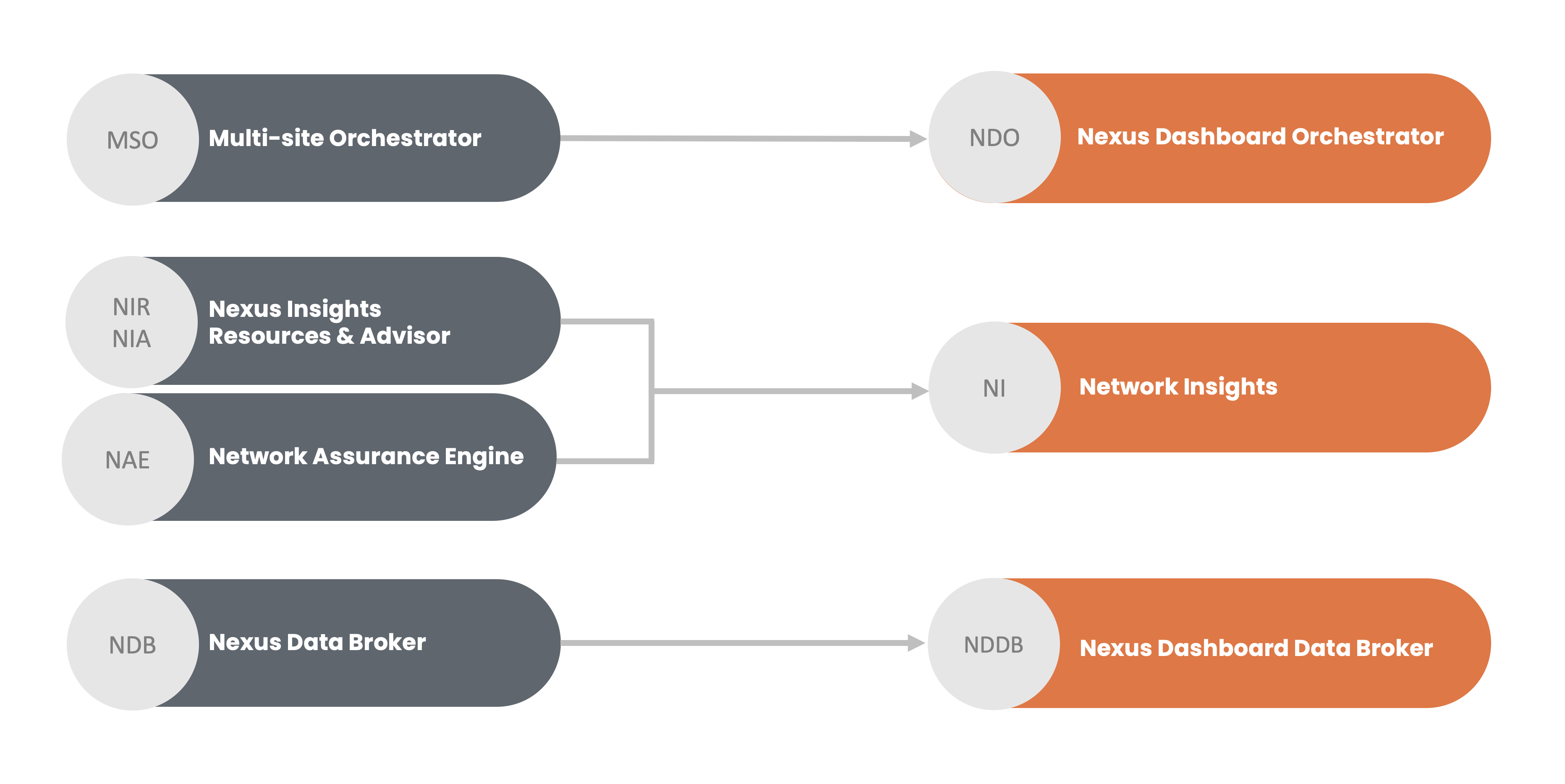 Nexus Dashboard brings all these tools under a single umbrella to assist with:
Automation: Use Nexus Dashboard Orchestrator to provision configuration to multiple hybrid cloud sites.
Operational management: Proactively monitor the health of multiple fabrics and detect anomalies.
Compliance: Define compliance rules and learn when any security policy breaches the defined ruleset.
Analysis: Conduct configuration impact analysis prior to implementation.
Why do I need Nexus Dashboard?
Whether we discuss Cisco ACI or the equivalent product from another vendor, commissioning any new networking infrastructure will always provide challenges. Those challenges could include configuration provisioning, operational support, or compliance reporting. Too much-uncorrelated data can be overwhelming and valueless.
Fortunately, Nexus dashboard provides us with clarity through a sea of data that without it, it would be challenging to correlate.
We often see common troubleshooting requests from customers when operating one or more Cisco ACI fabrics, from knowing what changed and when for Audit and Compliance to the traditional "why is my application slow?"; the ask is more often than not reactive. To show the possible value that something like Nexus Dashboard with a "Day 2 Operations" bundle can offer, we've picked two example use cases that we've seen from our customers that may also help you see the value of the product suite. While these may sound simple and obvious, they'll typically save your operational staff anywhere up to 80% of their time, allowing them to refocus their efforts towards more proactive support measures.
Scenario One: Customer A has a requirement to enable their staff to quickly determine whether a flow is permitted from point A to point B:
Outcome: We see in the output that Customer A's support staff can quickly interrogate their existing Cisco ACI fabric using simple filtering syntax to see if an HTTPS (TCP/443) flow is possible between EPG1 and EPG2 within the Customer-1 tenant. It also shows the source and destination IP address ranges that are in use for Endpoint communications.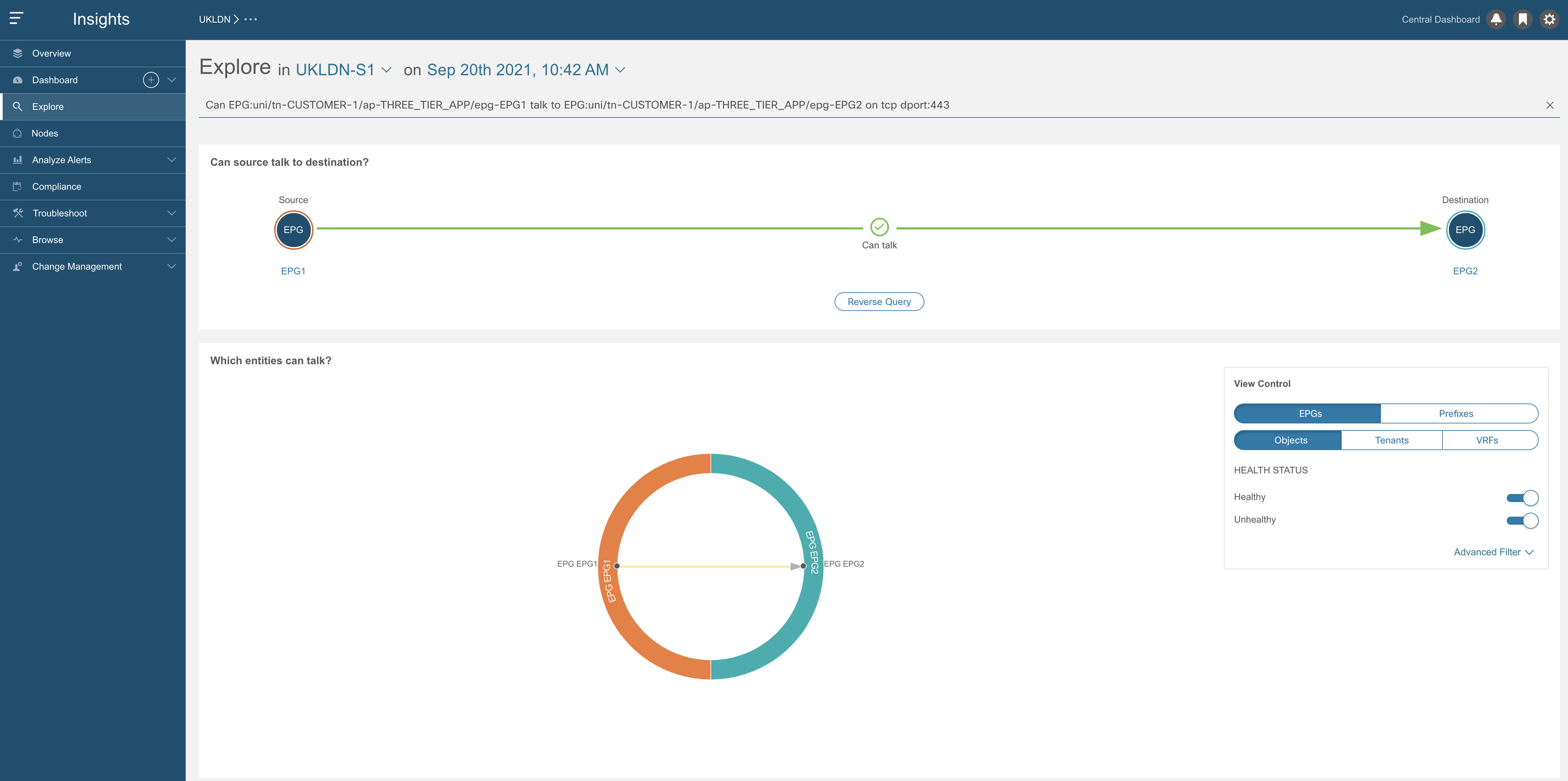 Scenario Two: Customer B would like to understand why packets are getting dropped within their Cisco ACI fabric:
Outcome: We can see in the output all of the packet details and transit points for a communication flow between Endpoint A (12.12.12.5) and Endpoint B (16.16.16.25). However, in addition to the packet details, we can also see at the bottom of the output that on Leaf 209 interfaces 1/13 and 1/14, we are experiencing buffer drop issues. The pinpointed focus area allowed the support engineer to hone their efforts towards Leaf 209 to resolve the issue and restore satisfactory services within their datacentre.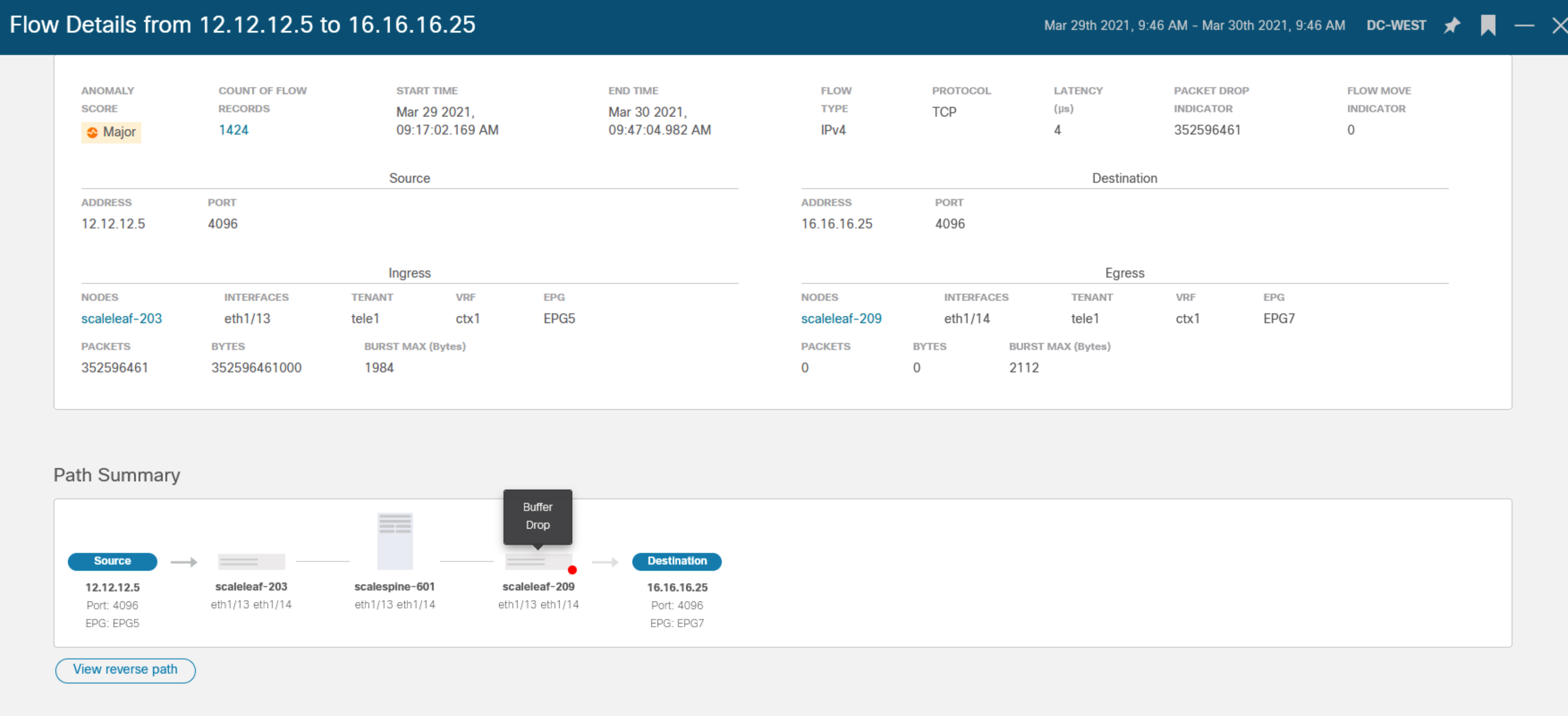 Common questions we get asked
Q: Can Nexus Dashboard support multiple sites?
A: Yes, Nexus Dashboard can support the onboarding of multiple sites for services such as NI and NDO, allowing you to manage them all from a single pane of glass. When deploying more than a single ND cluster, we recommend using version 2.1+ to take advantage of the 'One View' feature introduced. 'One View' allows the chaining or integration of multiple ND clusters together, providing a consolidated view of application data from all clusters. While 'One View' introduces architecture benefits, it is essential to note that there are strict deployment guidelines for the cluster nodes to make yourself aware of when going through the design phase.
Q: Can we continue to use our existing management tools?
A: Yes and no. Nexus Dashboard compliments your existing management toolsets. Existing tools remain needed to provide Custom management (via API), Syslog, SNMP (eurgh) via the APIC, enabling you to use existing processes, such as capacity planning and port usage. The only caveat to consider right now is that you can't export Netflow data from the fabric nodes if you're using Network Insights for Flow Analytics.
Q: Do I have to pay for it?
A: Unfortunately, the answer is Yes, and your deployment approach will define what that final cost ultimately looks like, but rest assured, we at BestPath are knowledgeable in the product suite and are always on hand to assist in making sure you get the right components and pricing to meet your needs.
More